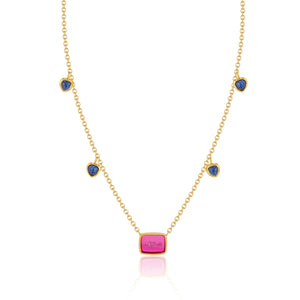 This delightfully romantic necklace is both playful and sentimental! The centerpiece of this synthetic ruby beauty is a hand-carved intaglio of a heart and arrow glowing with the most wonderful deep pink hue. Guarding the ruby intaglio are four natural sapphire cabochon hearts. The ruby intaglio is fixed set onto an 18k yellow gold cable chain, and the sapphire hearts are bezeled and set dangling from the chain to provide movement when worn. Perfect with a t-shirt and jeans, or dress it up for a night on the town! Either way, we're pretty sure this necklace will get you compliments! The perfect give for that special someone, or to treat yourself!

The chain is 18 inches, with adjustable jump rings at 17" and 16" so that you can wear it alone, or layered with your favorite pieces. Dimensions center seal: 10mm x 8mm.

PLEASE NOTE: Although this is a hand-carved seal, it is not an antique, it is a custom carved piece for Seal & Scribe.
We have one (1) piece in stock and ready to ship!